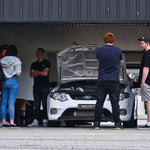 This week we sat down with Nik from Smart Homes, who specialises in helping home buyers achieve their dream goals without compromise. Nik's passion for helping people fulfil these dreams grew from the rocky road he travelled down during his own first home build. 
Nik explained to us in detail how this all unfolded, and whilst he is still enduring the costs of what happened he wants to ensure first home buyers have all the information they need before they sign the dotted line.
We all know the excitement that comes with the decision to stop paying someones else's mortgage, and start paying your own. As a young couple, Nik and his partner made this decision to stop paying somebody else's mortgage and own their own home almost 4 years ago. Whilst all their mates were either at uni getting HECS debts or travelling around the world, their focus was to further themselves now and travel later. 
Soon after purchasing their block of land things got 'really hairy' for Nik and his partner. Nik stated "you hear about all these hidden costs that come up after you sign those building contracts, and then its ''oh we for got about this and that', and basically they totalled up to $23,000 out of pocket". And this wasn't even stuff they wanted, it was to get him from what they had quoted him as a formal contract. He felt like he was walking in blind, and the biggest kick up was that they just didn't have the money. What they owed tallied up to half of his salary as an apprentice. Whilst they wanted to cancel, they had been approved apart from the shortfall, so he's been backed into a corner. To take them to court was looking like $88,000, and even then there was no guarantee he'd win the case. He'd put all his faith into a consultant and company he thought he'd built trust with, only to realise he knew nothing. 
Nik has learnt so much through his journey that he's turned this passion and drive into a career. Now that he knows how it all works, its a whole different ball game. The first thing he does is lay out everything from builder, to finances, to his own experiences so that potential clients actually understand how he got to where he is.
Here, they can understand and somewhat relate to who they are dealing with and build up trust from the start. He gives them the worst case scenario straight up so they can make the decision straight away. Take it or leave it. When it comes to selling homes, he ensures his customers experience a journey he didn't get to. He follows them the whole way through the process, giving them the keys at the end and a handover gift from himself.

Through all of this, Nik has found calm in the time he spends working on his car. He has a real passion for garages, his specialty, and is known as 'Mr Enthusiast'. Nik tells us 'the garage is not just a place to store or dump a car'. Whilst this is a very niche market, it's what he pushes, now installing 8-10 car garages in his clients homes. 'There are just so many things you can do with garages, we are only just scratching the surface' he tells us. It's all about fitting it to your lifestyle, whether you are into cars, you are a travel agent, or you need to make your garage with a separate office at the front, anything is possible.
Nik's advice for first home buyers is to get as much information as possible, try to do your own research, and find an agent who is willing to explain it to you and guide you through the whole process, especially when it comes to finance. The more you understand, the more you are going to enjoy the experience. He believes it's better to buy than to waste money on rent, however it's about making sure you do the research and do it properly so that you don't fall into the same trap he did. Nik will give anyone the time of day if they are willing to listen.
To learn more about Nik, look up 'Mr-Enthusiast New Homes By Nik' on Facebook.